GLAMAROUS BEAUTY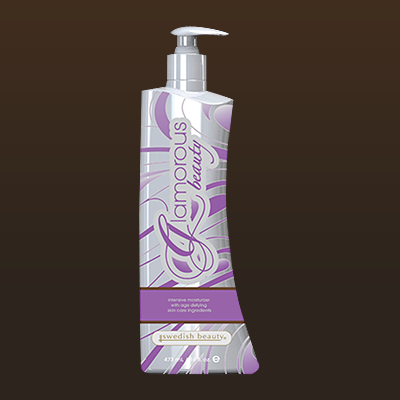 Keep the deep, dark tan that could only come from the Sea of the Midnight Sun….
Pamper your skin with this luxurious AquaSilk™ serum suspended within this dramatic 24-hour moisturizer. Infused with hardworking marine ingredients from the Baltic and Atlantic North Sea, this nutrient rich lotion leaves your skin feeling soft, silky and soothed. Hydrated healthy skin tans faster, tans darker and stays tan longer. Daily use creates the ideal canvas for a tanning masterpiece and enviable Glamorous Beauty!
Lavish Ultra Moisturizing Tan Extender
Featuring AquaSilk™ Serum
AquaSilk™ Serum – Lightweight, luxurious color amplifying blend holds and maximizes moisture for silky-smooth skin
Precious Pearls – Soft-focus pearls help diminish the appearance of fine lines and wrinkles
Swedish Marine Ingredients – Seaborne cocktail from deep within the North Sea of Sea Minerals and Seaweed cushions skin against moisture loss
Featuring AquaSilk™ Serum
Refreshing, clean Undeniable Love fragrance
Enhanced with Vitamin A, E, and B5 – Paraben Free – Shea Butter and Jojoba
Great when paired with Irrestible Beauty! Same great scent!