FRANKLY SCARLET®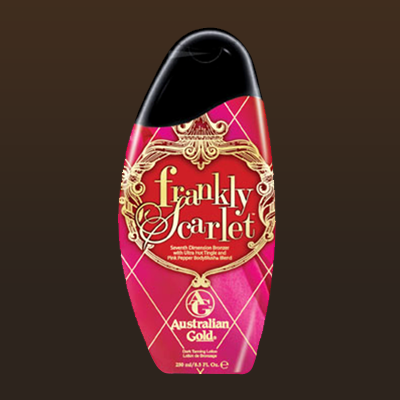 This belle of a bronzer becomes instantly rebellious with hot-tempered tingle and a Pink Pepper BodyBlush® Blend. Advanced natural bronzers are combined with essential moisturizers for an impeccable finish. Dark color will never again be gone with the wind!
Seventh Dimension Bronzer:

Non-DHA, low-maintenance blend of natural bronzing extracts and DermaDark® bronzers for immediate color that lasts 4-to-7 days

Hot-Tempered Tingle T15:

High level of intense reddening and tingle sensation for the darkest color possible

Pink Pepper BodyBlush® Blend:

Brings the body alive and promotes long-lasting dark color with extra blush tones

A playful fragrance of Berry Flirty is sure to make you blush
CAUTION: For experienced tanners only! Test small area before application. Do not apply to face. This product causes a reddening and tingle sensation. A base tan is recommended before use. Not intended for sensitive skin. Not intended for outdoor use.