Tanning Equipment
UV Tanning Equipment
Beyond Bronze Tanning Boutique is proud to introduce our collection of equipment to help you achieve the bronze color you desire! Our E3 line of beds promotes a beautiful healthy tan, with respect for our environment! These beds feature Eco Friendly Lamps, Ergonomic Elements, and Energy Saving Principles. Our beds use Wolff lamps- the most trusted quality lamps in the tanning industry. Complete with relaxing Zen music, frosted acrylic, and mood lighting, you will not be disappointed in your tanning experience at Beyond Bronze. We have 4 levels of tanning and 5 different styles of equipment. Regardless of the bed you choose, you can rest assured that you are tanning in the most high tech equipment in the area, with the most amazing results! The first time you stop in, one of our certified Tanning Specialists can give you a tour and help you develop your personal tanning plan to achieve your tanning goals.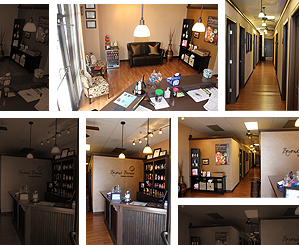 Level 1 – Building
Take your time building your tan in our e1 building beds. Built on a time-tested frame, using design principles reminiscent of our levels 2, 3, & 4 the new e1 series offers flexibility and value. The e1 series delivers a great tan you would expect from a higher level tanning bed at a level 1 price. These beds are equipped with lamps that have a higher ratio of UVB rays to stimulate optimal melanin production. This production of melanin will help you build pigment to achieve your base tan.
Triggers pigment production
Low Wattage/High in UVB rays
32- 100 watt lamps
20 minute session
3-5 tanning sessions per week to maintain
Level 2 – Intensifying
Our Ultimate Envy 234 beds will satisfy every tanner's fantasy for a deep, rich, full body bronze glow. These beds will intensify your color by enhancing melanin production. The lamps in the Envy 234 are designed with high wattage and more UVA to give you both immediate and delayed results. This level will give you better color in less time. So relax and indulge, experience a soothing sense of therapeutic contentment and overall enhancement of personal well-being. Enjoy the ultimate tanning experience…with Ultimate Envy.
Darker pigment in less time
High Wattage/High UVA rays
34- 120 watt lamps, 3 high-pressure facials
15 minute session
Mood Lighting
Cathedral of Sound- Zen Music, Salon Station, & mp3 Jack
Internal Superflow Cooling System
3-4 tanning sessions per week to maintain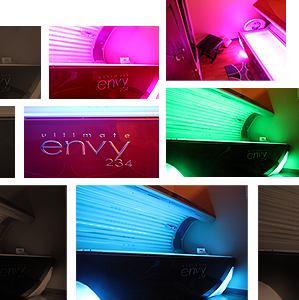 Level 3 – Bronzing
Our Epic 442 beds are the classy, sophisticated solution for an exotic, tropical island tan! These beds are equipped with bronzing lamps that are high in wattage and UVA output. This unique blend of UVA and UVB rays give a bronzing effect to a deep base tan. This level will help you achieve a deeper bronze color. So dare to live on the edge, be the envy of other's forbidden desires, become a bronze sun goddess immersing your soul into the depths of tanning bliss. Enter the lasting paradise we long for…with Epic.
Deepens and maintains pigment
Higher Wattage/Higher UVA rays
42-160 watt lamps, 3 high-pressure facials
12 minute session
Mood Lighting
Cathedral of Sound-Zen music, Salon Station & mp3 Jack
Internal Superflow Cooling System
Contoured Acrylic
4-5 tanning sessions per month or 1-2 times per week to maintain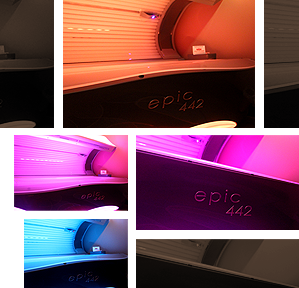 Level 4 – Perfecting
Our Level 4 beds are the most efficient at giving you the perfect bronze color. The lamps in these beds emit almost purely UVA rays. We have two perfecting beds, the Legend 548 and the Sundazzler™.
The Ultimate Legend
Bronze yourself in luxury in our Legend 548, with contoured acrylic and shoulder tanners, every inch of your skin will be perfectly bronzed. The Legend is unmatched in tanning intensity, performance and beauty! Escape your mind to a peaceful, tranquil utopia; allow the alluring warmth of UV light to intimately surround your body while experiencing an unforgettable, whimsical, dark tanning adventure. Re-energize with an extraordinary, tanning escapade…the Legend.
Deepens, Maintains, and Perfects your rich, bronze color
Maximum Wattage/Maximum UVA rays
48-180 watt lamps, 4 high-pressure facials, 8-25 watt specialized shoulder lamps
10 minute sessions
Mood Lighting
Voice Talk & Cathedral of Sound- Zen Music, Salon Station, MP3 Jack, & FM Radio
Internal Superflow Cooling System
Fully Contoured Acrlyic
3-4 tanning sessions per month or once a week to maintain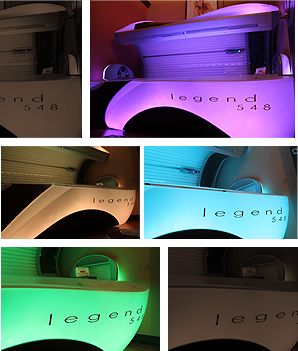 Sundazzler – America's #1 Stand-up
Be drenched in vertical bliss! Be dazzled with awesome tanning power and convenience! The 9 minute Sundazzler™ by Heartland Tan provides a powerful tan in a stand up booth for those who thrive on convenience. This bed has the most wattage of any bed in our boutique. If you are looking for bronzing power from every angle, this will get you the richest, most perfect bronze color possible! The Sundazzler™ is truly "America's Best Tan™".
Deepens, Maintains, and Perfects your rich, bronze color
Maximum Wattage/Maximum UVA
54- 220 watt lamps
9 minute session
LED Effects
MP3 player, FM radio
Windtunnel Cooling System
3-5 tanning sessions per month or once a week to maintain